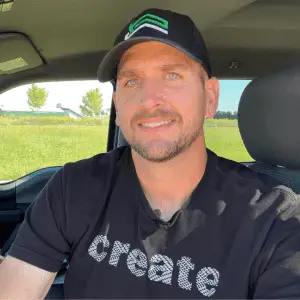 I'm a home repair DIYer, house flipper, YouTuber, husband, and dad living in Illinois.
I grew up in a rural community and was always "hands on" – whether that was building treehouses, wrenching on my first dirt bike (1979 Honda XR80), getting up at 4:30 a.m. in summers to detassel corn, or making model rockets. And I also always had a passion for entrepreneurship. I was that kid who sold candy out of a duffle bag at high school when they closed down vending machines and I hired eight workers when I was 19 years old to help with roguing thousands of acres of seed corn.
After watching my parents build their own home from scratch in 1985 and then take on many projects over the years, the foundation for my interest in DIY work began. I loved helping my parents fix odds and ends around the house – and then experiencing the results day after day in our home.
Sometimes the things you love most as a kid are the same things that give you energy as an adult.
For me, passions split between handy work and entrepreneurship turned out to be a great foundation for house-flipping.
While I worked for 15 years in corporate America for a construction and mining equipment company, it wasn't until I started buying rental properties in my late 20s that my interests in DIY work and entrepreneurship came together. Now I buy, rehabilitate, and sell properties in Illinois. As I'm renovating and re-selling, I also share "how-to" projects with the world on my YouTube channel, which has more than 225k subscribers, and my blog here.
If you're interested in taking on repair projects, learning DIY hacks, or find receptacles fascinating- you're in the right place.
To give you an idea of what I post, here are some of the most popular blogs:
I am NOT a professional carpenter, electrician, or plumber. I am a pretty handy guy who is always looking to learn and willing to get my hands dirty. My hope is this blog will empower you to take on more repair projects around your home. Or at least feel more educated about projects and pricing when consulting professionals in your area.
If you have any questions or just want to say hello – Jump over to our Facebook Group and say hello! Thanks for stopping by!
– Scott